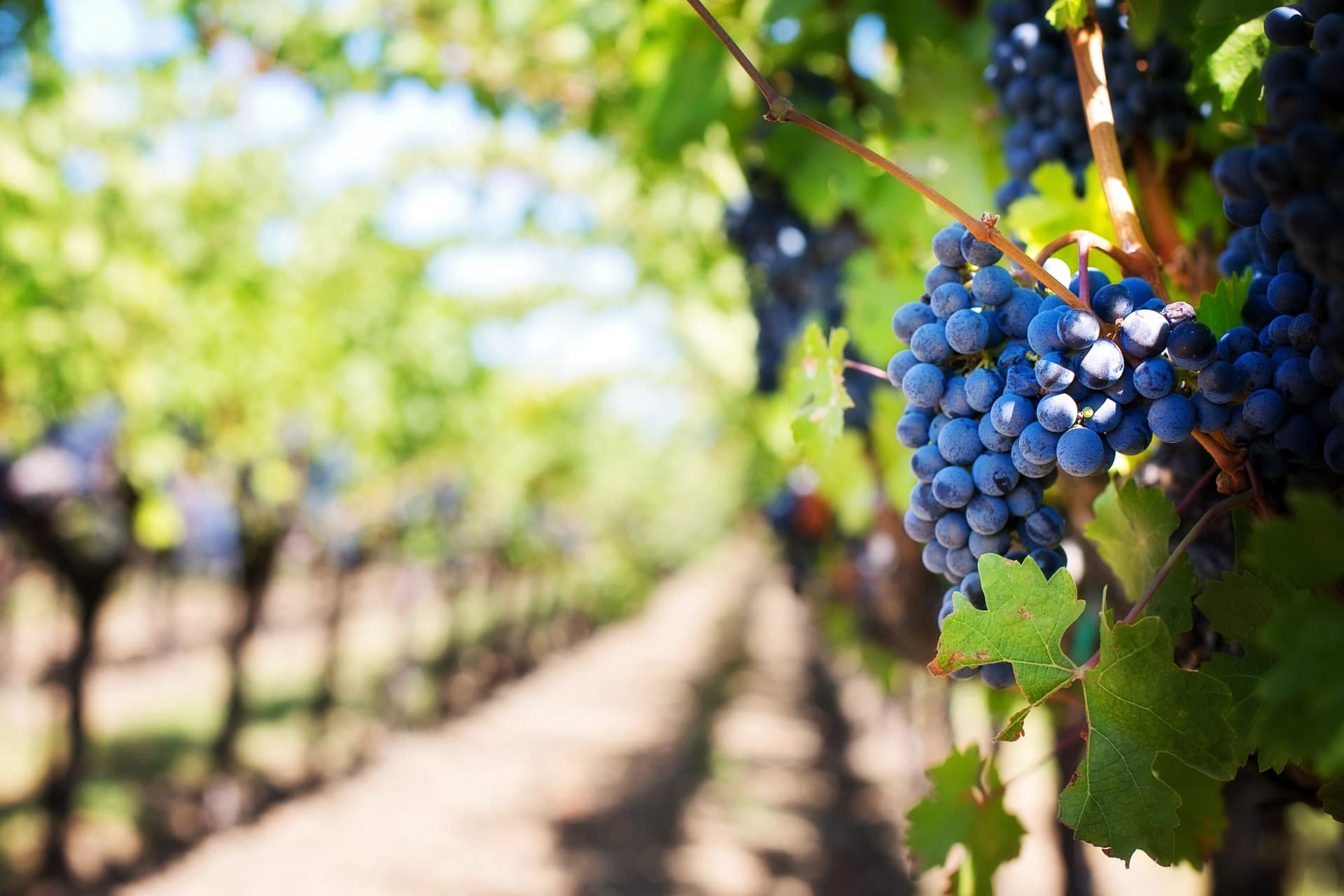 Retrouvez les articles de presse ou les guides qui parlent du Domaine Gilles Copéret.
JAMES SUCKLING- 
D'excellentes notes ont été attribuées aux vins du Domaine Gilles Copéret en 2019, 2021 et 2022 :  
Les vins du Domaine s'expriment deux ou trois ans après leur mise en bouteille; De ce fait, Annie et Gilles Copéret ne participent pas souvent à des concours qui jugent les vins de l'année mais ils participent plutôt à des dégustations à l'aveugle pour des guides et revues:
REVUE DU VIN DE FRANCE -Juin 2021 
« Le Tour de France des vins de plaisir »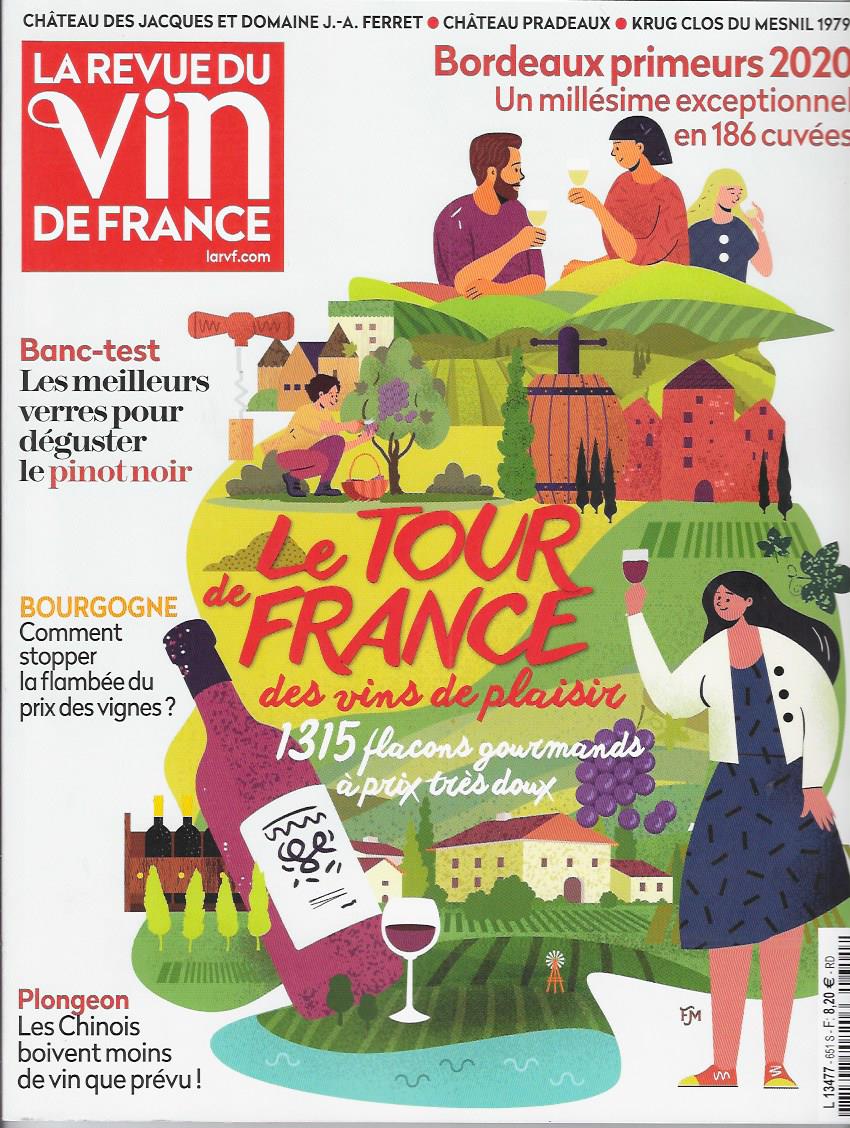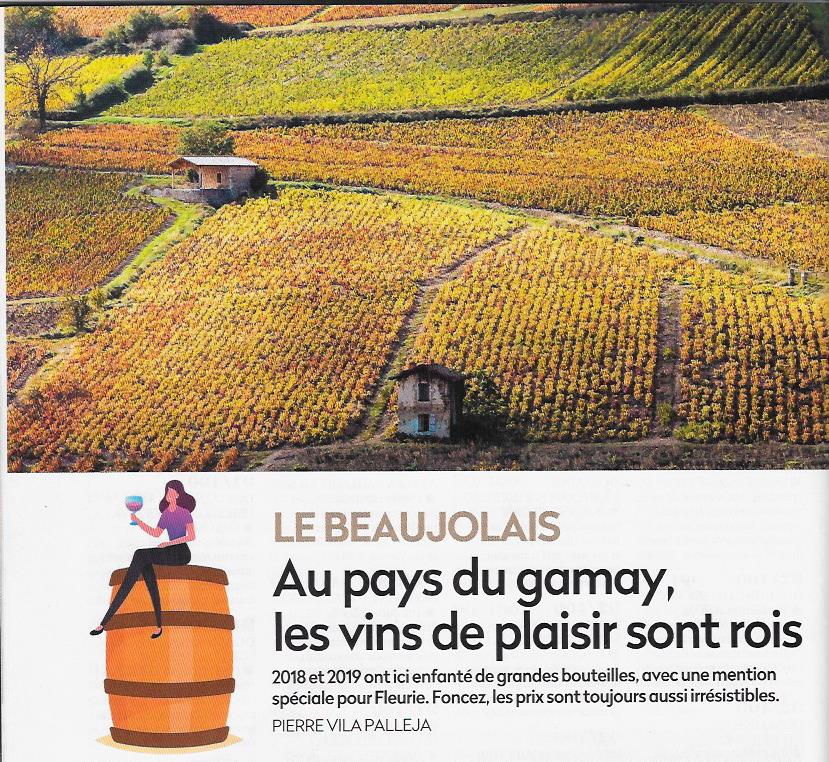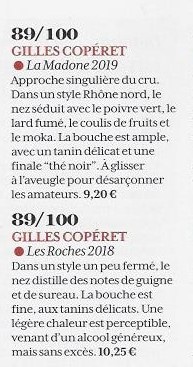 CUISINE ET TERROIRS
En 2006, la revue « Cuisine et terroirs » avait publié un article intitulé « Gilles Copéret : Une révélation »
BURGUNDY REPORT
Au mois de février 2020, le Burgundy Report a publié de nouveaux commentaires après dégustation des vins du Domaine Gilles Copéret.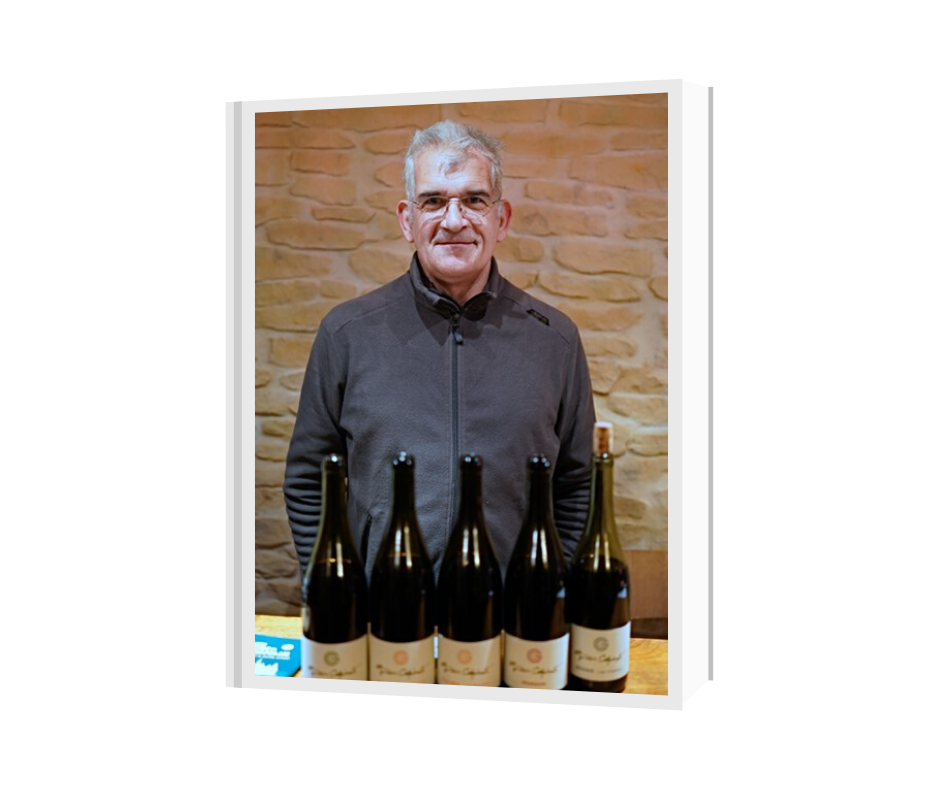 Gilles on 2019:

"I wasn't that convinced after the harvest, the colours weren't great and I didn't think a lot of material – how wrong could I be – it's turned out to be really superb. On the other hand, there's quite a bit less. I didn't think I'd been frosted but obviously, there was an effect as my yields dropped – somewhere about 40 hl/ha – but I only had 45 hl/ha in 2018. Fortunately, I'm more fixated on my wines rather than the yields!"

Gilles work in the vines has Terravitis certification since the 2018 vintage.

The wines…

Wines from Gilles that were excellent or even better – avery good vintage at this estate.

'All in DIAM now and I'm very happy.'

2018 Brouilly Saburin
14 days of maceration here – 'Maybe a little more in 2019 as it's so supple.'
That's a deep nose, a little darker fruit, perhaps a little pyrazine too. Beautiful in the mouth, fine shape, enough freshness a cool fruit and nicely energetic. Very tasty fruit and just a small mix of tannin and mineral to finish. Long – tasty length – at least excellent!

2018 Fleurie La Madone
The first vintage at the domaine, and certified Terrvitis.
Bright, wide, again a little pyrazine here. Larger-scaled, a base of tannin, growing width of herby flavour but with good fruit at the core too. Nicely structured in the finish – nicely shaped wine here.

2018 Fleurie Les Roches
There was no 2017 due to the hail
A more compact nose, no pyrazine here, concentrated at the core with a certain freshness. Ooh – now that's super – wide, energetic, a great structure, some tannin too – lovely the energy here – particularly in the finish. A structural Fleurie but a great Fleurie!

2018 Morgon
Grand Cras and Charmes assembled – a mix of domaine and bought grapes.
Another tight nose to start. A style in the same vernacular as the last Fleurie but it's Morgon so of-course there's a more direct style. Again love the structure here. It's definitely a wine to wait for, nicely complex and also saline finishing. Excellent wine.

2018 Regnié Le Chastys
The only wine not bottled – cold from the tank.
More aromatic freshness, once-more the pyrazine but in this case, it intertwines with more florals – attractively-so. A big and fresh volume of aroma. Mouth-filling, open, high-toned floral-pyrazine flavours and a very modest framing of those flavours with tannin – no grain though. Wide and satisfying in the finish. This is probably excellent – to be bottled after the springtime – there's still some 17 to be sold.
Lors du OFF du Wine Paris organisé par le Cru Fleurie, au restaurant Le Mordant à Paris (10), le journaliste/bloggeur Tom Mullen a dégusté les vins du Domaine. Voici un extrait de l'article (traduits) :
« On retrouve des notes classiques d'arômes et de saveurs de Fleurie – équilibrées et veloutées – dans les vins de Gilles Copéret, comme La Madone (2018) ou Les Roches (2018) ; pourtant, ces vins se vendent localement à moins de 11,00 euros (12,00 $) la bouteille. Le prix et la qualité (comme d'habitude dans le monde du vin) ne sont guère en corrélation.[…]
Domaine Gilles Copéret. Fleurie Les Roches. 2018. €10.00/$10.90

Les arômes classiques de Fleurie qui incluent les fruits de framboise et de myrtille. Un beau Beaujolais classique et magnifique. C'est la quintessence de l'expression de Fleurie à un prix exceptionnellement raisonnable. »
LE POINT
Le magazine Le Point de septembre 2019 parle des vins du Domaine Gilles Copéret :
REGNIE EQUATION
Cet article de presse issu de la revue « Beaujolais aujourd'hui » du mois de mai 2019 met la cuvée Régnié Equation 2017 produite par le Domaine Gilles Copéret à l'honneur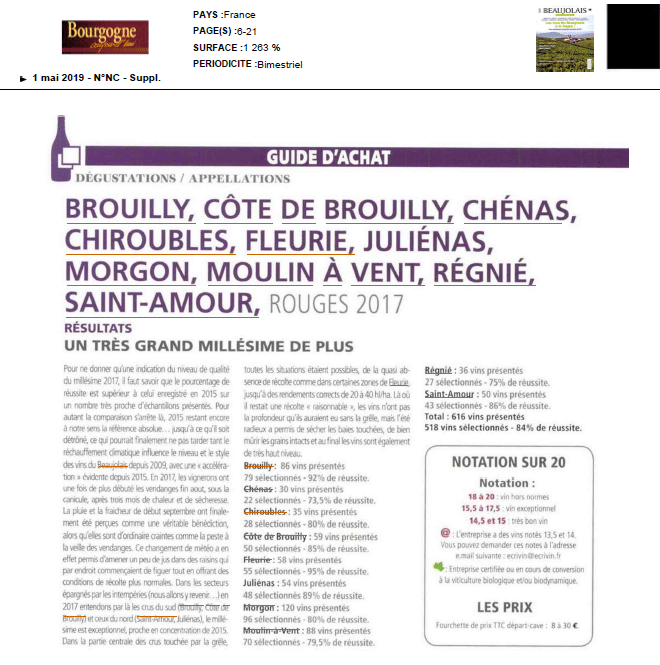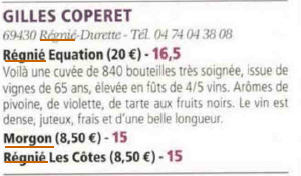 « Le vin est dense, juteux, frais et d'une belle longueur »
BURGUNDY REPORT
Le Burgundy Report a publié des commentaires fort élogieux sur chacune des cuvées du Domaine Gilles Copéret… à vous de juger!