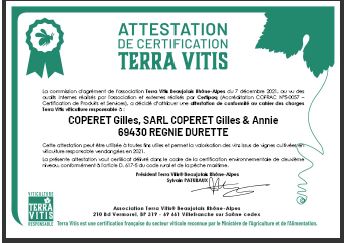 The estate has been certified Terra Vitis since our 2018 vintage: This is a new stage in the environmental approach that is so important to Annie and Gilles Copéret.
We are really proud of our commitment! What does being certified Terra Vitis really mean? It means we belong to a network of vinegrower-winemakers who have a set of shared values:
To promote sustainable vinegroing and continue or develop a three-way approach: environmental, economic and social.
Prioritise natural regulation mechanisms,
Foster a healthy environment to protect producer'stheir employees' and citizens in general's health.
Ensure the production of healthy grapes to produce great wines by reducing the levels of residuals as much as possible
Highten biological diversity in and arounf their plots.
Improve and preserve water, air and vinegrowing land quality..